Assisting Primate Conservation, Inc.
Supporting Research and Conservation of Primates
We must do all we can to see that primates survive for future generations of humankind to know and appreciate. Primate Conservation, Inc. (PCI), provides grants ranging from $500 to $5,000 for research and conservation projects. Proposals for the study of the least-known and most endangered primates are reviewed twice per year, in the fall and the spring. Each grant is reviewed by two independent experts. The members of our scientific advisory board generously volunteer their valuable time to prioritize the projects that are accepted.

Regrettably, we are unable to fund many worthwhile projects because our resources are limited. If you are interested in primates and conservation, please support PCI. Every contribution, small or large, goes directly to field projects. We are a small all-volunteer organization that keeps expenses to a minimum (94% of funds are distributed as grants), so that as much money as possible is used for fieldwork. Please be as generous as you can. PCI is a 501(c)(3) private foundation, and your contributions are tax deductible.

Membership Benefit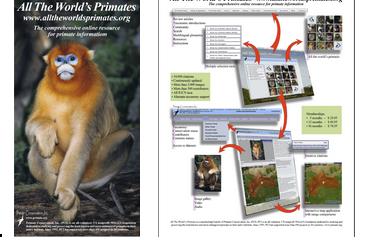 In addition to supporting important projects worldwide, members of PCI have access to the Web's most comprehensive online resource for primate information, All The World's Primates.

Developed for students, researchers, and anyone interested in our closest relatives, All The World's Primates illustrates the diversity of our taxonomic order. The foundation of the website is a relational database with contributions from more than 300 scientists, most of whom have done research on primates in their natural habitats.

The website's database contains all of the 703 species and subspecies recognized by the International Union for Conservation of Nature (IUCN), as well as exciting, as-yet-undescribed discoveries. The database details habitat, social behavior, diet, physical measurements, risks of extinction, and other facts critical to understanding primate lives. Users can organize primates by multiple methods that best suit their needs. Fully referenced with over 10,000 citations, the data accompany more than 3,000 photographs, as well as interactive maps for each species and subspecies, video, audio, links, search tools, multilingual glossaries, review articles, and other resources.

How to Join PCI

Clicking the button below will send you to the "Join" page of PCI's sister site, All The World's Primates. There you can become a member of PCI and support our work of conserving primates. We also invite you to click the "Tour" tab at All The World's Primates to see how the website works.

Join Primate Conservation, Inc.

If you would like more information about PCI or specific PCI-funded projects, or if you would like to donate stock or a different dollar amount than the website allows, please contact PCI's director at nrowe@primate.org or write to us at

Primate Conservation, Inc.
1411 Shannock Road
Charlestown, RI 02813-3726

PDF copies of PCI's form 990 tax returns are available at http://foundationcenter.org/findfunders/990finder/

---
[ Home ] [ About Primates ] [ Grant Application ] [ Assisting PCI ] [ News ] [ Support ] [ Primate Gallery ] [ Primate Map ] [ About PCI ] [ Feedback ] [ Links ] [ Publications ] [ E-Book ]